Pets Alive is a no-kill animal rescue, located in the foothills of the Catskill Mountains, about 1 1/2 hours from New York City. Our mission is to improve the lives of companion animals everywhere by any means possible, including rescue, adoption, advocacy, collaboration, intervention and education.
---
Valentine's Day Adoption Special!
Thinking about adopting a new best friend? You're in luck because Pets Alive has over 100 cats and dogs that qualify for this adoption special, waiting to find their forever home! AND - our matchmakers will find you the right match, perfect for you or your family! Now through February 16, any dog or cat that has been living at Pets Alive for more than 6 months has a special "love" adoption fee of only $14.00 in celebration of Valentine's Day (pre-approved applications only). Come for a visit and fall in love! Check out our animals and submit an application: http://petsalive.org/critters.html
---
Calling all Pets Alive Adopters!
Post a #ShelterValentine and help us earn a lifesaving grant award.
Now through Feb. 14, post a photo or video valentine on your Facebook, Twitter or Instagram account, celebrating the love of your adopted pet from Pets Alive.
Be sure to use hashtag #ShelterValentine, and use the following tags: @petsalive.org and @petcofoundation for the chance to win some great prizes (including a Petco gift card) - and give us a chance at a lifesaving grant award from the Petco Foundation up to $10,000! Random prizes drawn daily for you and a $1,000 grant for us. The grand prize of a $10,000 grant (and more prizes for you!) will be drawn on Feb. 14.
The more #ShelterValentine posts that mention Pets Alive, the more chances we have to earn lifesaving funds! You can post daily on one or all 3 social channels; the pet can be living or a pet memorial posting can be made. Learn more at petcofoundation.org/love
---
Pets Alive Kids Team
Sunday, February 23, 2020
1:00-2:00 pm
Glen Arden, 214 Harriman Avenue, Goshen, NY
Join us for an all new humane education session for all ages!
We will start the afternoon off with the reading of "Max Talks to Me" by Claire Buchwald. Alex and his dog Max are true friends. Alex is learning that every good relationship is a two-way street. We will wrap up the afternoon with a craft activity. There is no charge for attending but attendees are encouraged to bring canned cat food or paper towels for the cats at Pets Alive. There is no fee for this program but we do ask you register at: https://conta.cc/3aMQA4C.
This program is made possible by a grant received from Petfinder Foundation.
---
5th Annual Bowl-a-Thon for the Animals!
Sunday, March 29, 2020
Quinnz Pinz, 13 Railroad Avenue, Middletown, NY
Registration from 12-1pm; Bowling from 1-3pm
Fee: Pre-registration - $18. At the door - $20.
A great family event featuring a bake sale, a silent auction, 50/50 - and bowling! Registration fee includes rental of shoes and bowling ball, pitcher of soda and pizza per lane. Hudson Valley Ghostbusters, Inc. will be on hand for photo fun. Get your tickets early and save money - plus this event sold out last year! Lane Sponsorships available for $50 each. We're also accepting donations of items for the Silent auction and bake sale. For information and registration: http://bit.ly/2020Bowl-Register.
---
Origami Owl Fundraiser
Create your own jewelry and more.
100% of commission benefits Pets Alive. Fundraiser on through January 31, 2020. Shop and order here.
---
JEWELRY FUNDRAISER! Shop for a cause!
Check out this great handmade or hand strung jewelry by StephsCraftingBits! Pets Alive gets 20% of the sale proceeds when you mention our name at checkout (or by contacting Stephanie at her Etsy site)! Shop and order here - and enjoy free shipping on most items: https://etsy.me/2rtlt8X
---
Pets Alive is proud to be a Partner for Pets! BISSELL and LostPetUSA.net have teamed up to help organizations like ours raise money, and now you can help too! When you purchase pet products on bissell.com and enter the code ADOPT at checkout, a portion of your purchase will be donated to our organization!

It's simple.

◾ Shop pet products on www.bissell.com
◾ Enter the code ADOPT at checkout
◾ Then select our organization listed as Pets Alive animal sanctuary!
Learn more at www.bissell.com/partnersforpets.

---
Pets Alive introduced the "Senior Canine Tooth Fairy Program in mid-2018, thanks to a recent grant award from The Grey Muzzle Organization! This grant award will be used to provide dental treatments to some of our senior dogs to promote good health and increase their chance at adoption. Stay tuned for updates as the program gets underway! The national nonprofit The Grey Muzzle Organization improves the lives of at-risk senior dogs by providing funding and resources to animal shelters, rescue organizations, sanctuaries, and other nonprofit groups nationwide. For details, please visit www.greymuzzle.org
---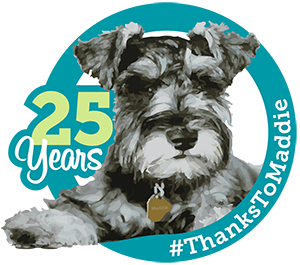 Congratulations to Maddie's Fund, who celebrates 25 years! Maddie's Fund® is a family foundation created in 1994 by Workday® co-founder Dave Duffield and his wife, Cheryl, who have endowed the Foundation with more than $300 million.

Since then, the Foundation has awarded more than $225.7 million in grants toward increased community lifesaving, shelter management leadership, shelter medicine education and foster care across the U.S. Pets Alive has benefited from several recent grants, thanks to Maddie's Fund.

The Duffields named Maddie's Fund after their Miniature Schnauzer Maddie, who always made them laugh and gave them much joy. Maddie was with Dave and Cheryl for ten years and continues to inspire them today. Maddie's Fund is the fulfillment of a promise to an inspirational dog, investing its resources to create a no-kill nation where every dog and cat is guaranteed a healthy home or habitat. #ThanksToMaddie.

Maddie's Fund is a 501c3 organization, EIN 94-3362163.
UPCOMING EVENTS!
Click here to see our on-going events!